NGA
WASHINGTON: How well did the American Intelligence Community do in its most fundamental job: providing strategic warning of war and major strategic events to the president when it came to Russia's invasion of Ukraine and ISIL's invasion of Iraq? The heads of the Central Intelligence, Defense Intelligence, National Geospatial Intelligence and National Security agencies claimed today… Keep reading →
UPDATED: With DNI Clapper's Comments WASHINGTON: Robert Cardillo, the man who has organized President Obama's daily intelligence briefing and brought the first tablet to the White House for a president to see intelligence product firsthand, will be named the new director of the National Geospatial Intelligence Agency. Cardillo, the current Deputy Director of National Intelligence for… Keep reading →
TAMPA: It's the stuff of science fiction: intelligence analysts hands spinning a shimmering virtual globe and pulling strands of complex streams of data over it to build a three-dimensional planning model which they can share with soldiers on the battlefield. It's clear the National Geospatial Intelligence Agency is nowhere near deploying such capabilities, but its… Keep reading →
WASHINGTON: Australia used both black and white and multispectral satellite imagery from DigitalGlobe satellites shot on March 16 to search for the purported wreckage of Malaysian Airlines Flight 370. A source familiar with the issues said DigitalGlobe supplied several types of imagery other than the black and white satellite photos. The Australians used multispectral but… Keep reading →
WASHINGTON: Positing the future of intelligence — even for one year – poses unique challenges. First, there's so much those of on the outside don't know. Then there's the simple truth that our enemies and competitors drive so much of intelligence. Since we can't know with certainty what will happen, it's difficult to predict what the intelligence… Keep reading →
UPDATED: NGA RESPONDS WASHINGTON: It's not a lot of money in the Pentagon's scheme of things, but the Defense Department's Inspector General has found that the National Geospatial Intelligence Agency (NGA) wasted millions because it did not close a rented building and made improvements to a building when it was supposed to leave the facility.… Keep reading →

WASHINGTON: As FEMA, firemen, police and the National Guard wade into the devastation visited upon us by Hurricane Sandy, many of them are using maps and other information made available to them by intelligence agencies.
While intelligence analysts and their technical specialists usually spend their time targeting bad guys and helping troops plan to get them, some of them have gotten the rare and welcome chance to help their countrymen at home several times since Hurricane Katrina ravaged New Orleans. Keep reading →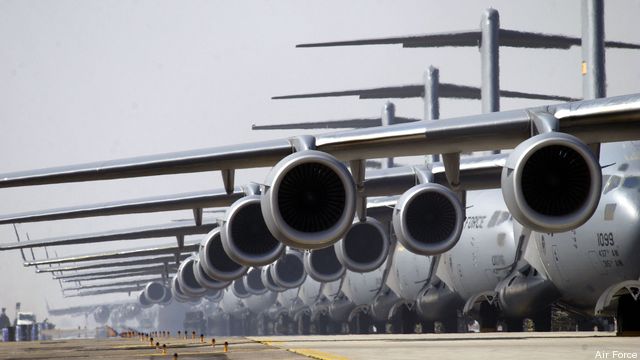 The Air Force provides the essential capabilities that make America's joint operations possible and has been involved in nearly every military operation overseas since 1991. As the Pentagon delves into the details of the 2014 budget, getting the Air Force budget right is critical to ensure that the nation can count on its indispensable role in a time of shrinking resources.
Our adherence to the idea of a joint force has led to a roughly equal cut of spending among the services. This is not the optimum allocation of scarce resources in coming years if our national strategy is to maintain global presence and communications, as well as to fight cost-effectively and be capable of defeating modernized militaries. Keep reading →
ORLANDO: (Story Delayed Due to Software Problems) A study by the intelligence community raised industrial base "concerns" about the merger between commercial spy satellite companies GeoEye and DigitalGlobe but found no showstoppers.
That's the word from Letitia Long, director of the National Geospatial Intelligence Agency (NGA). I asked Long today if industrial base issues had been considered by the government as it mulls the merger of America's only two companies that make and operate spy eyes in the sky. She said Michael Vickers, the Pentagon's undersecretary for intelligence, and Jim Clapper, the Director of National Intelligence, had ordered a study. It raised "concerns" – but no showstoppers – about some of the subcontractors who serve the two companies. Several of them are single-source companies, meaning they are the only ones who provide certain services, software or parts. Keep reading →