faa
NEW YORK (CNNMoney) — They're coming. And they're not just for the military anymore. Keep reading →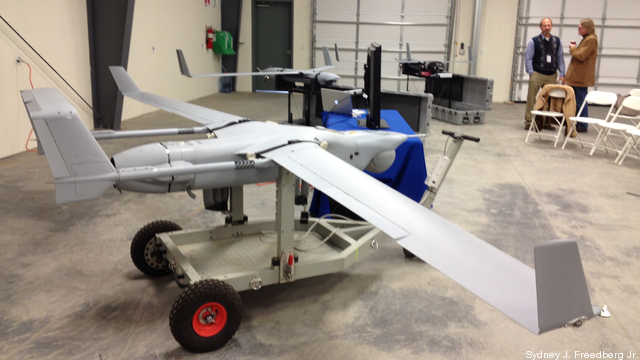 GILLIAM COUNTY, OREGON: This isolated test site in rural Oregon is where Boeing subsidiary Insitu takes its drones "to torture them," said site manager Jerry McWithey. Temperates soar to 110 degrees in summer and plummet to 10 degrees — with 50-knot winds — in winter. The hot-and-cold ordeal the drones go through is a microcosm of the problems facing the company as a whole as the defense spending boom goes bust.
The era of exponential growth is over. When Insitu was founded back in 1998, it had just four people and a plan to build small numbers of small unmanned air vehicles for weather research. Shortly after 9/11, in February 2002, the start-up partnered with aerospace behemoth Boeing to develop military recon UAVs, and its ScanEagle drone (click here for video) first saw action over Fallujah in 2004. Keep reading →
UAV group AUVSI to FAA (http://bit.ly/Se6I1u): Get moving on test program for drones in US airspace, which Congress wanted by Aug. 12th. SydneyFreedberg
LAS VEGAS: As military spending shrinks, makers of unmanned aircraft are looking to civilian customers to pick up the slack — but getting ready to fly drones in civilian airspace is a big technological and regulatory challenge. Keep reading →

WASHINGTON: The Army has put together and demonstrated a system of ground-based "sense and avoid" technology that should show the Federal Aviation Administration the military can safely fly drones in civilian airspace without ground observers or chase planes, the project's leader tells Breaking Defense.
"We're ready now to start getting the system certified," said Viva Austin, product director for Unmanned Systems Airspace Integration Concepts in the Army's Program Executive Office for Aviation. "Once this system is certified, I think we have cleared a major hurdle. I think we're there." Keep reading →

WASHINGTON: The Federal Aviation Administration will publish a notice in the Federal Register on Friday asking for public comment on how it should set up six new ranges Congress has ordered the agency to create where the military and others can test technologies that might allow drones to fly safely in the same airspace used by airliners and small private planes.
The test sites are the first step toward a more dramatic mandate Congress imposed on the agency in the long-awaited FAA reauthorization bill President Obama signed Feb. 14. In a sweet Valentine to the burgeoning unmanned aerial systems industry, the new law gives the FAA three years — two less than it took Congress to pass the act – to "integrate" UAVs into the national air space, or NAS, meaning set policies that will let drones share the air with piloted aircraft.
"These test sites will help us ensure that our high safety standards are maintained as use of these aircraft becomes more widespread," Transportation Secretary Ray LaHood said. Keep reading →

WASHINGTON: The Army is inviting the other armed services to join in a demonstration this summer at Dugway Proving Ground in Utah of ground-based sense-and-avoid (GBSAA) technologies that may help win Federal Aviation Administration approval of far larger numbers of military drone flights in U.S. civilian airspace.
Mary Ottman, deputy product director for unmanned systems airspace integration concepts in the Army's UAS Project Office at Huntsville, Ala., told an Association of Unmanned Vehicle Systems International (AUVSI) conference the Dugway exercise is part of a "crawl, walk, run" Army strategy for gaining FAA expansion of military access to civilian airspace for unmanned aircraft flights. The Defense Department has designated the Army the lead service in developing GBSAA systems. Keep reading →

The Army, eager to get Federal Aviation Administration permission to fly unmanned aircraft in civilian airspace near its U.S. bases for training, has issued a new directive on the subject and will apply for an FAA Certificate of Authorization to operate drones near Fort Stewart, Georgia.
"The Army's unmanned aircraft systems (UAS) represent emerging technology that requires access to the National Airspace System," Army Secretary John McHugh says in a Jan. 13 memo accompanying Army Directive 2012-02 (Supplemental Policy for Operations of Unmanned Aircraft Systems in the National Airspace System). "The Army intends to use UAS for warfighter training and directed mission support," McHugh's memo explains. Keep reading →