What's in a name? A lot, especially for the military.
Over the next decade, the Navy will take delivery of at least 32 Littoral Combat Ships (LCS); 10 Joint High Speed Vessels (JHSV); three Mobile Landing Platforms (MLP); several Afloat Forward Staging Bases; and new versions of amphibious assault ships and Ship-to-Shore connector craft. New riverine boats, upgraded patrol craft and new versions of Lewis and Clark-class T-AKE ships may also be added to this interesting platform mix.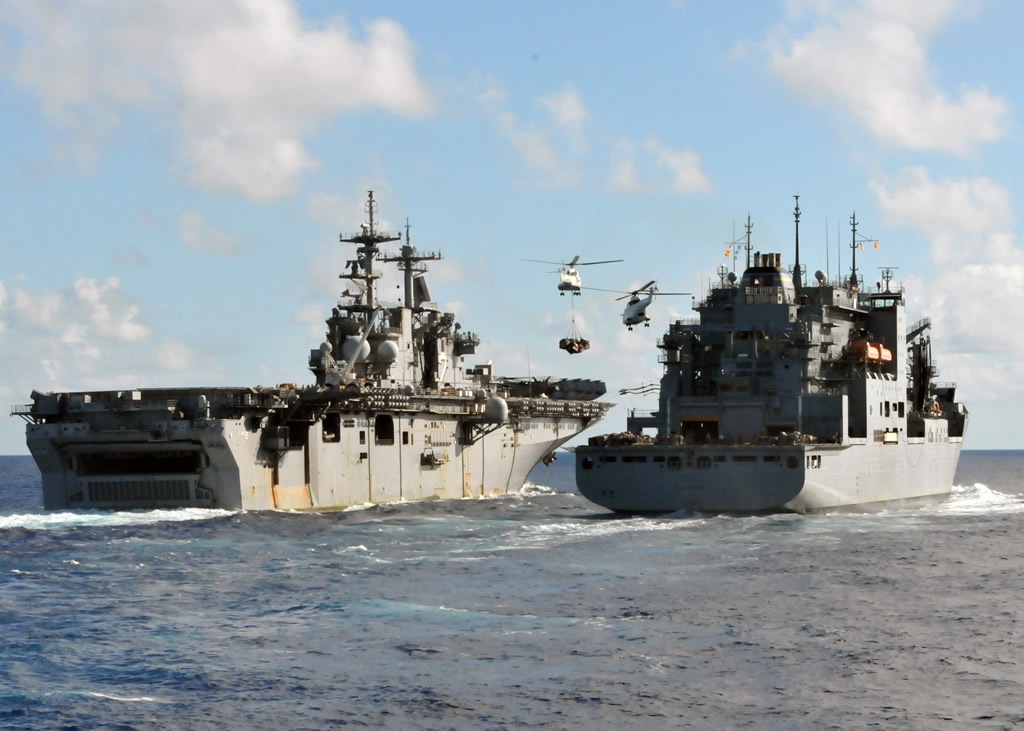 Unlike prior ships, where advanced technology posed the greatest obstacle, these new types could be most hobbled by language. That is not a typo. What the sea services call these new ships and how they are classified could present a far larger bureaucratic issue to surmount than learning how to operate these innovative platforms in different ways.
At the Navy League's 2014 Sea-Air-Space symposium, a panel of Marine generals spent the better part of two hours talking about the Corps' innovative, new Expeditionary Force 21 (EF;">-21) capstone concept and how important the role of Expeditionary Ships will be in the successful execution of this concept. Yet the term they used to refer to these innovative platforms was "alternative" ships. Not inspiring or illustrative.
Even Adm. Jonathan Greenert, Chief of Naval Operations, the most vocal and articulate advocate for these new ships and their capabilities, could only come up with very boring and opaque term "ancillaries" during an otherwise rousing January speech to the Surface Navy Association's annual meeting when he urged the Navy to embrace these ships
My former boss and mentor, the late-Vice Adm. Art Cebrowski, who led the Pentagon's Office of Force Transformation, was a huge proponent of understanding that the key to changing culture was rooted in the language one used to champion new ideas.
So here's their new name: the Expeditionary Fleet. These are ships fully capable of operating in that petri dish mix of missions that constitute the vast majority of what Navy and Marine forces do on a daily basis. This includes missions such as presence and stability operations, humanitarian assistance/disaster response, security assistance and maritime training, counter-piracy, countering transnational crime and search and rescue operations. The Expeditionary Fleet can shoulder the majority of missions that fall into what the military categorizes as Phase 0 (shaping the environment) to Phase 2+ (when combat actually begins). This is not a small set of missions.
Senior Navy and Marine Corps leaders have been strong and vocal advocates for the capabilities these Expeditionary Ships bring and how important they are to future operations. They have repeatedly talked about these ships in public forums and advocated their acquisition before Congress. But in promoting their capabilities and touting their need, these same leaders have repeatedly stumbled over what to call these ships and their earnest efforts to properly "label" them is undermining the very operational advantages they are attempting to promote.
Culture Change
To successfully achieve cultural change, Cebrowski was acutely aware that one had to change the words being used or that goal would not succeed using conventional words. Thus, labels like "alternative" or "ancillary" connote a second-rate status or that these platforms are not real warships. This language is not particularly helpful when the goal is to mobilize innovative thinking across the sea services and generate new concepts of operations for this expanding fleet.
The term expeditionary, on the other hand, conveys a firm operational purpose and is more readily understood by those who read it. It connotes being deployed overseas and rapidly conducting operations––ready where and when needed. Both the Navy and Marines have long-cited their expeditionary roots and even the Army is touting its intent to become more expeditionary. Moreover, the term expeditionary is amply cited in the Pentagon's current collection of strategic documents, which places the term Expeditionary Fleet firmly in the center of today's strategic dialogue across the joint force. For example, the 2014 Quadrennial Defense Review (QDR) emphasizes that boosting the numbers of forward-deployed naval forces to critical regions is key to both increasing presence and reducing the time required to respond should a crisis erupt. Moreover, the QDR talks about deploying "new combinations of ships, aviation assets and crisis response forces" to provide more options for regional commanders. This new emphasis encapsulates the exact types of innovative capabilities possessed by the Expeditionary Ships fleet.
This innovative impulse to fully explore and exploit the new types of capabilities resident in these ships is also embedded in the Marine Corps Expeditionary Force 21 concept. This 10-year vision, approved by Gen. James Amos, Marine Corps Commandant, details how the Corps will operate in the future and is intended to guide experimentation, force development and inform program decisions. Key to this concept is a focus on the ships and their capabilities that help enable the Marines to deploy overseas and get ashore if required.
Amphibious warships provide the full range of capabilities necessary to meet the critical needs of America's combatant commanders. To meet current operational demands would require a force of 50 or more amphibious ships, which today's resource-constrained force of 30 operational ships cannot hope to fully meet.
Recognizing this looming gap in amphibious ships, the EF 21 concept places a premium on experimenting with new platforms and adapting traditional employment patterns to help "stretch" the amphibious force while still providing a robust level of overseas presence to meet regional operational needs. JHSVs, Mobile Landing Platforms, LCS and other high-speed transports and various Maritime Prepositioning Force ships are all specifically listed within the EF 21 concept as candidates for "exploration and experimentation." It should be emphasized that EF 21 clearly states that building more amphibious warships is the preferred course of action—if sufficient funding was available.
Navy and Marine Corps leaders should be given credit for their willingness to compile a growing list of "explorations and experimentations." The expansiveness of this list demonstrates a commitment to seriously assess the mission boundaries offered to the sea services by this collection of ships and to fully wring out their operational capabilities. Here are the ongoing or proposed experimentations, demonstrations or potential missions that Navy and Marine Corps officials have already articulated for these ships:
Assessing the deployment of small force packets of Marines on LCS, JHSV and MLP
Deployed USNS Spearhead (JHSV-1) to the Mediterranean for stability operations missions in North Africa and Gulf of Guinea before transiting to Caribbean to support 4th Fleet operations
Use former USS Ponce, (Interim) Afloat Forward Staging Base, as test platform for sea-based laser defense system in summer 2014
Deploying Special Purpose Marine Air Ground Task Force—Southern Command aboard USS America to conduct training with Chile and Columbian military's as ship transits to San Diego for commissioning
Use a JHSV as test platform for electromagnetic rail-gun tests in 2016
Used T-AKE ship as base for Marine Expeditionary Brigade command element in the Ssang Yong 2014 exercise with South Korean forces
Deployed USS Freedom to Singapore two years ahead of schedule to accelerate concept of operations learning
Assessing MLP, AFSB, T-AKE and other ships use as "lilly pads" to support MV-22 Osprey and F-35B operations
Developing adaptable mission packages for MLPs
Deployed Marine Force Recon Platoon on Freedom for training mission
This rather impressive list is just the beginning of what the sea services can do when the Expeditionary Fleet arrives in greater numbers and the Navy and Marine Corps really begin to understand their true operational capabilities and capacities.
To secure that greater understanding and ensure these ships are fully integrated in surface operations Navy and Marine Corps leaders need to think more about their language and what they call these ships. Expeditionary Ships are not "ancillary" alternatives. They are not second-tier ships and they are not all warships and should never be confused as such. This is the force that will be most heavily engaged in the messy day-to-day business of naval forces, meeting what CNO Greenert calls "the relentless, high demand for naval forces." The Expeditionary Fleet allows the Navy and Marine Corps to enhance presence in many regions, freeing-up destroyers, cruisers and large-deck amphibious ships to be re-deployed to more critical areas of the globe. Without the Expeditionary Fleet the Navy will be hard-pressed to maintain even a modest forward presence in many of the world's oceans.
Robert Holzer is a senior national security manager with Gryphon Technologies LLC in Washington. He  worked for the OSD Office of Force Transformation. The views expressed here are his own.