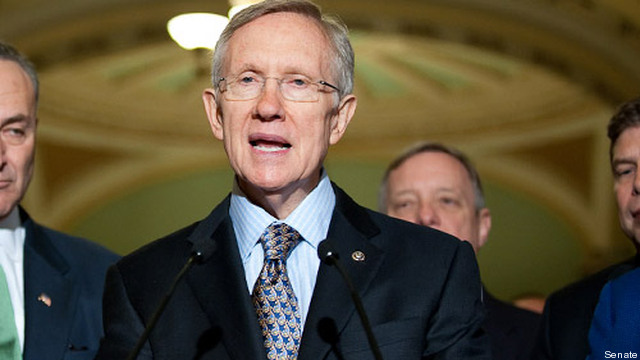 CAPITOL HILL: Senate Republicans have mounted a filibuster against former senator Chuck Hagel, the president's nominee for Defense Secretary.
That's according to Senate Majority Leader Harry Reid. The Senate's top Democrat made an impassioned speech decrying the move, calling it "tragic" and noting this had never happened before.
Initially, it looked as if a GOP filibuster could be broken. But word from the Hill now is that Reid does not yet have the votes lined up that he needs to complete the 60 votes needed to overcome the GOP tactic. Two votes will make the difference.
The White House, not surprisingly, issued a statement saying that the president stands strongly behind Hagel and condemned the GOP move. "These delaying tactics are unconscionable and they should end right away," said White House spokesman Joshua Earnest.
It's difficult at this point to tell if this move is largely being driven by Sen. James Inhofe, the new ranking member on the Senate Armed Services Committee, or if this is a broader effort by Senate Republicans against President Obama's defense agenda. Or, perhaps, it's actually driven by genuine concerns by Republicans that Chuck Hagel isn't fit for the job. (Perhaps, but that wouldn't really explain the party line vote on Hagel in the SASC.)
The larger question is whether Inhofe's much more partisan approach to defense issues — at least compared to his predecessor John McCain — will persist and change the character of what has been the most bipartisan committee on Capitol Hill.
Meanwhile, one of the bedrocks of the Democrats national security team, Rick Debobes, is retiring after more than two decades on the SASC. Debobes is accurate, courtly, careful and never got out ahead of his boss, Sen. Carl Levin. We understand the very experienced Peter Levine is the new staff director.